!!National State of Disaster has been lifted!!
President Cyril Ramaphosa announced on Monday that the National State of Disaster would be lifted from midnight.

A number of restrictions will continue for 30 days before the government consults other legislation to guide its response to the pandemic:
The restrictions that the President announced recently will remain in place for 30 days under the regulations published.
Masks are still mandatory for indoor public spaces.
Gatherings are limited to 50% of a venue's capacity provided attendees can show proof of vaccination or a negative COVID-19 test.
Travellers to South Africa need proof of vaccination or a negative COVID-19 test or will be required to have an antigen test and undergo 10-day isolation if they test positive.

Resources:

Click here to read the President's full address on 4 April 2022
Click here to download a copy of the Gazette on the lifting of the National State of Disaster
Click here to download a copy of the recently published regulations
Easy English Centre CC
Safe and secure environment.

English preparation for university.

Small groups of students for individual attention.
Easy English Centre was established in 2004 after identifying a need for English. It has since grown into a well recognized and trusted school with a proven track record.

Easy English Centre is the only language school in Pretoria that is accredited by ETDP Seta, which is the main body that monitors and controls skills developmentand the standard and quality of education.

It is a lot easier for our students to get accepted at major colleges and universities because we are assured by the above council, as English is one of the major requirements for admission.

It is our aim at all times to maintain the highest quality service by offering the best course material, that is delivered by teachers with degrees and diplomas in addition to TEFL (Teaching English as a Foreign Language).

Our students are made up of many different cultures and religions, with this in mind we are committed to sharing our knowledge with respect for this diversity.

It is our mission to ensure the growth and development of all our students to reach their full potential.
I like this school because teachers are friendly, the school is beautiful and classes are comfortable. I have made friends from different countries. My English is progressing quickly.

Lin Ying
China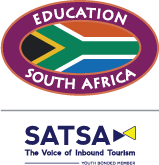 COVID-19 Compliant
The 2nd wave is upon us and we need to be alert to the potential spread of COVID-19. Download the COVID Alert SA App to be notified if you've been exposed to COVID-19, no data needed to use the app and it's completely anonymous so your privacy is protected. The power to save lives is in your hands, we are in this together. Stay Safe. Please wear your mask at all times when entering the school and during class. Social distancing is compulsory throughout the day. Please stay at home if you feel unwell. If you have a fever, cough and difficulty breathing, seek medical attention and call in advance. Follow the directions of your local health authority. Source: World Health Organisation.